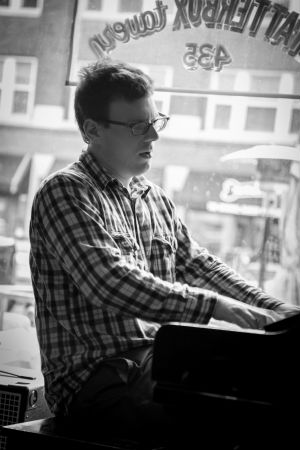 Short Bio
A native of Vancouver, Washington, Zach Lapidus is a pianist, composer, and teacher currently based in Brooklyn, NY. A graduate of Indiana University's Jacobs School of Music, Zach studied jazz under pianist Luke Gillespie and David Baker, as well as electroacoustic music and synthesis with John Gibson and Jeffrey Hass. Zach completed his Bachelor's Degree in Jazz Studies in 2008, and was awarded a Performer's Certificate, the highest undergraduate honor. He was also awarded a fellowship at Ravinia's Steans Institute for Young Artists, where he studied with Rufus Reid and James Moody. Most recently, he was named as one of five finalists for the American Pianists Association's 2015 Jazz Fellowship Awards. He was also selected as a finalist for their 2011 competition as well.
Between 2008 and 2014, Zach was based in Indianapolis, IN, where he worked as a performer, recording artist, teacher, and studio musician. In 2014, he relocated to Brooklyn, NY, where he currently resides. Among weekly residencies and frequent performances in major clubs and venues in Chicago, Indianapolis, and Cincinnati, he has also performed at the North Sea Jazz Festival in Rotterdam, the Netherlands, the Indianapolis Jazz Festival, and the North Texas Jazz Festival. His playing has been featured on broadcasts of NPR's Jazz Set with Dee Dee Bridgewater and Morning Edition, as well as on Voice of America and WBGO. Zach has been a longstanding musical collaborator with clarinetist Frank Glover, and was the pianist and keyboardist on his Owl Studios album Abacus, which was released in 2009 to critical acclaim. The duo of Frank Glover and Zach Lapidus are also featured in the American Public Television documentary Take 2.
He also performs frequently as a solo pianist, with his own piano trio, with the electroacoustic ensemble Marauder Octobot, and as a performer of keyboards and laptop in his solo electroacoustic projects. Among other musicians, he has performed with Dee Dee Bridgewater, Wycliffe Gordon, Claudio Roditi, Rich Perry, Corey Christiansen, Bobby Watson, Derrick Gardner, Ralph Bowen and Maurice Brown.
Reviews and Press:
"Zach Lapidus…accomplished something miraculous in the vocal set's sole ballad, the Gershwins' imperishable 'Embraceable You.' With his far-reaching constellations of chords, laid out at a perilously slow tempo, he brought tears to [Dee Dee] Bridgewater's eyes…. Lapidus' harmonic imagination gave the lie to the hasty judgment that recherche harmonies are some kind of intellectual exercise. Here was proof that any element available to a musician can pull the heartstrings, and not in a sentimental way. Lapidus' ideas were fresh, challenging and deeply felt." — Jay Harvey, the Indianapolis Star
"Equally impressive, in a quite different way, was Zach Lapidus' take on 'Embraceable You,' a muted, will-of-the-wisp interpretation where each beat fell like a heartbeat, challenging [Dee Dee] Bridgewater to move to expressive, wistful heights." — Scott Shoger, NUVO
"His playing was faultless. I need to take piano lessons from him." — Becca Pulliam, NPR's A Blog Supreme